Welcome to Venn Class (Year 2 )
Teachers: Mrs Sweatman, Mrs Bartlett and Miss Cheetham
Teaching Assistant: Mrs Bown, Mrs Stirling
Some of our recent work on display: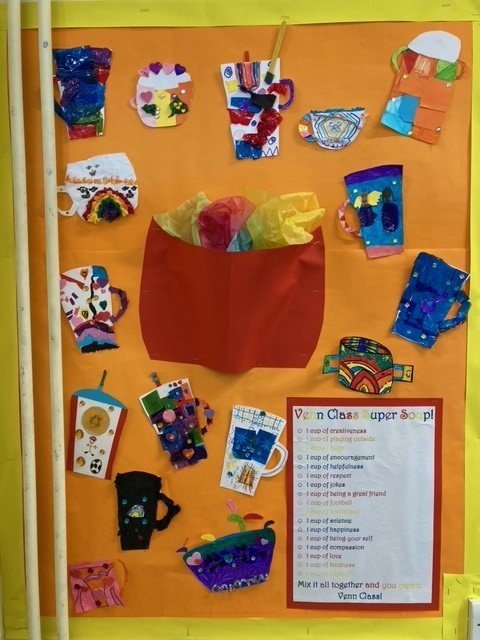 Welcome to Venn Class 2020-2021.
Here is some general information relating to Venn Class. Below you will also see a grid of useful websites which we may use at school and will be useful at home to support this term's learning.
Venn Class is taught by two teachers. We work closely together and bring our strengths to the days that we work. We find that the children quickly become familiar with who teaches them on which days but for parents' information, the week is as follows...
Mrs Sweatman teaches the class on Mondays, Tuesdays and Wednesdays and Mrs Bartlett teaches the class on Thursdays and Fridays. We have additional staff supporting us in PE, RE, Art and for some group work. This term, Summer, we will be supporting Miss Cheetham as she completes her teacher training. We are looking forward to welcoming her to our school as she embarks on a new career. She will be working closely alongside existing teachers and will take responsibility for some teaching throughout the first half of the term.
We are lucky to be supported every morning and some afternoons by Mrs Bown and Mrs Stirling.
It is our plan that every child has a reading book in their reading bag to read each day at home. We place a high priority on reading and will carry out reading tasks in class each day. These are not usually recorded in reading journals but we aim to maintain a dialogue with parents when we hear children read individually. Please record in the journal when your child reads at home. It is useful for us to see how the children are getting on with their books. We reward daily home-reading with stickers and stamps.
Spellings will be stuck in the journal on a Friday, with an informal test the following week. We will work on the spelling patterns throughout the week and practise developing a joined handwriting style at the same time. We will also work on the 'common exception words' ie. the useful words which do not conform to the spelling patterns. The full list is also printed in the Learning Journal. Please help your child to learn the words at home. Our spellings will be uploaded to the Spelling Shed website each week. This is a great website for learning the spelling patterns.
Homework tasks will come in a grid format half termly. This will allow the children choice to complet them at their won pace and choice over the tasks. Try to cover the tasks which realte to what has been taught in school recently.
PE lessons will take place on Tuesdays and Fridays. Children should come to school in their PE Kit on these days. They will need to wear their school jumper. They can wear dark black or blue tracksuit trousers when the weather gets cooler. If you could supply an old shirt for art, we may be able to protect school jumpers from paint!
Our topic for the Summer term is Flight. We will look at the history of flight, different types of flying vehicles, animals and famous pilots.
Please contact us via email to the office or in person at the end of the day if you need to discuss anything with us. In time, we hope to resume our open door policy.
Mrs Sweatman and Mrs Bartlett
Useful Websites

in Venn




A brilliant website for practising all the Year 2 maths and English skills.

It is a subscription site but you can complete 10 English and 10 maths questions a day for free- and that is plenty!

Don't pay- just have a few minutes activity to top up your skills.

Safe Internet searching for children

SCIENCE:

We are learning about the natural environment, starting with plants:

Practise your times tables.

In Year 2, we learn 10,2,5,3,4

(in this order).

Our new favourite time website

Can you get on the leaderboard?

Can you improve your score?

Get active with these exercises. dances and songs

Log in to Purple Mash with your password here:

Log in to Spelling shed and Maths Shed here. Find out what we have set for you this term.

https://www.edshed.com/en-us/login

The History of Flight

Take a look at these early flying machines....

A great CBeebies programme for learning about countries around the world

The live, online version of our school newspaper.

Oxford Owl - Help your child's learning

Go to 'My Class login'

Class name: Venn Password: Nok books

Top up your KS1 grammar skills.

Useful for parents too!
Milborne Port, Somerset DT9 5EP
01963 250366
milborneportprimary@educ.somerset.gov.uk and Homelearningmpps@educ.somerset.gov.uk