Summer Reading Challenge
Every summer holiday 'The Reading Agency' gives our children the opportunity to get involved with their 'Summer Reading Challenge' issued through our local libraries. This year they are doing it online due to library closures. You can enrol your child at the following website address. Please do sign up for this. It seems to be a really fun challenge this year based on the 'Silly Squad"! : https://summerreadingchallenge.org.uk/parents-carers

*Update*
In an assembly on Monday 15th June, which you can watch here, Mrs Carr set every child and member of staff a challenge to read 6 books before the Summer Holiday. This can form part of the official Summer Reading Challenge. Let us know when you have read 6 books and whether you have any recommendations as we would love to add them to this page.
Recommendations
I have been reading LOTS of books during lockdown and I have written a couple book reports on my favourites for you below:
The Shark-Headed Bear Thing by Barry Hutchinson:
Benjamin Blank wants to vanquish a beast, or at least save a damsel in distress. So, when a young girl (Paradise) explains that a strange Shark-Headed Bear-Thing invades her town he has to use his cunning to save the day. Although on his adventure he has to face a troll in a competition in Burp or Death and meets a amateur wizard named Wesley. I liked this book because it was funny, thrilling and it could cheer you up any day. I rate this 8 out of 10. I think 8-12 years would enjoy it.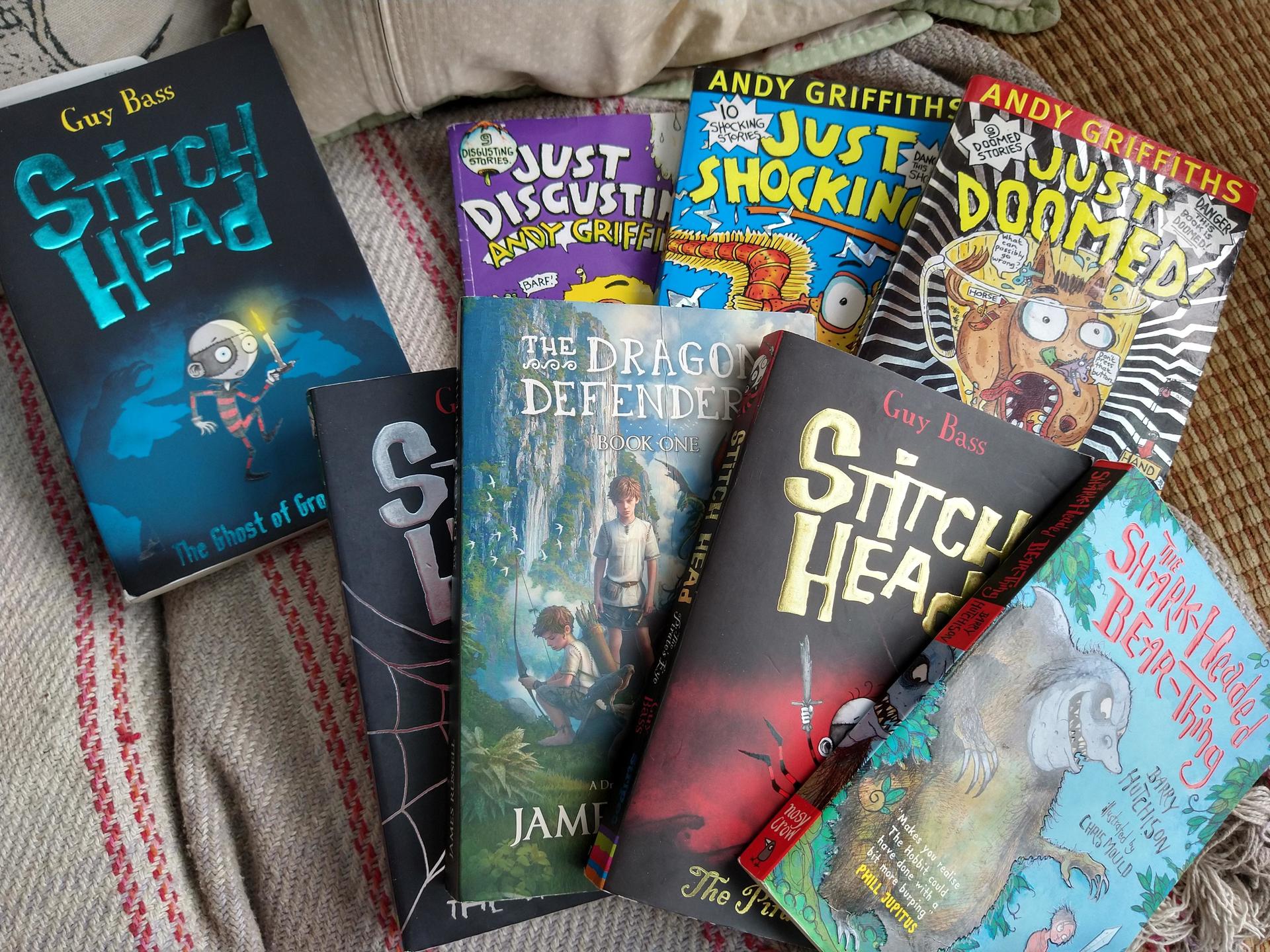 Just Shocking! by Andy Griffiths:
Do you like stories about fire hoses, robots, balloons, bike stack accidents, scissors, really good excuses, Choco Pops, exploding butterflies, lemonade and monster trucks? Join Andy on his shocking adventures with his shocking best friend Danny and his shocking girlfriend Lisa on their truly shocking capers! This book was SO funny and the moment I received it I read it non-stop! I rate this book 11 out of 10! There is a whole series of Just books(8 in total) and I have most of them but this one is my favourite. Anyone who enjoys being shocking and silly would love this book. ( 9 and up I think as there is a few rude bits!)
Your Sincerely,
Joseph Noyes (10)
I have read so many books whilst at home, they are my escape. It's a case of too many book and too little time.! I pass on most things I read, I've dropped two bundles off recently to different people (one of them being Mrs Elkins!) The author Sue Monk Kidd wrote The Secret Life of Bees which is an amazing book, I'm currently reading The Invention of Wings it's fantastic. It tells the story of a friendship between two girls. Parts are quite shocking but all the more relevant today given the Black Lives Matter movement.
Mrs Noyes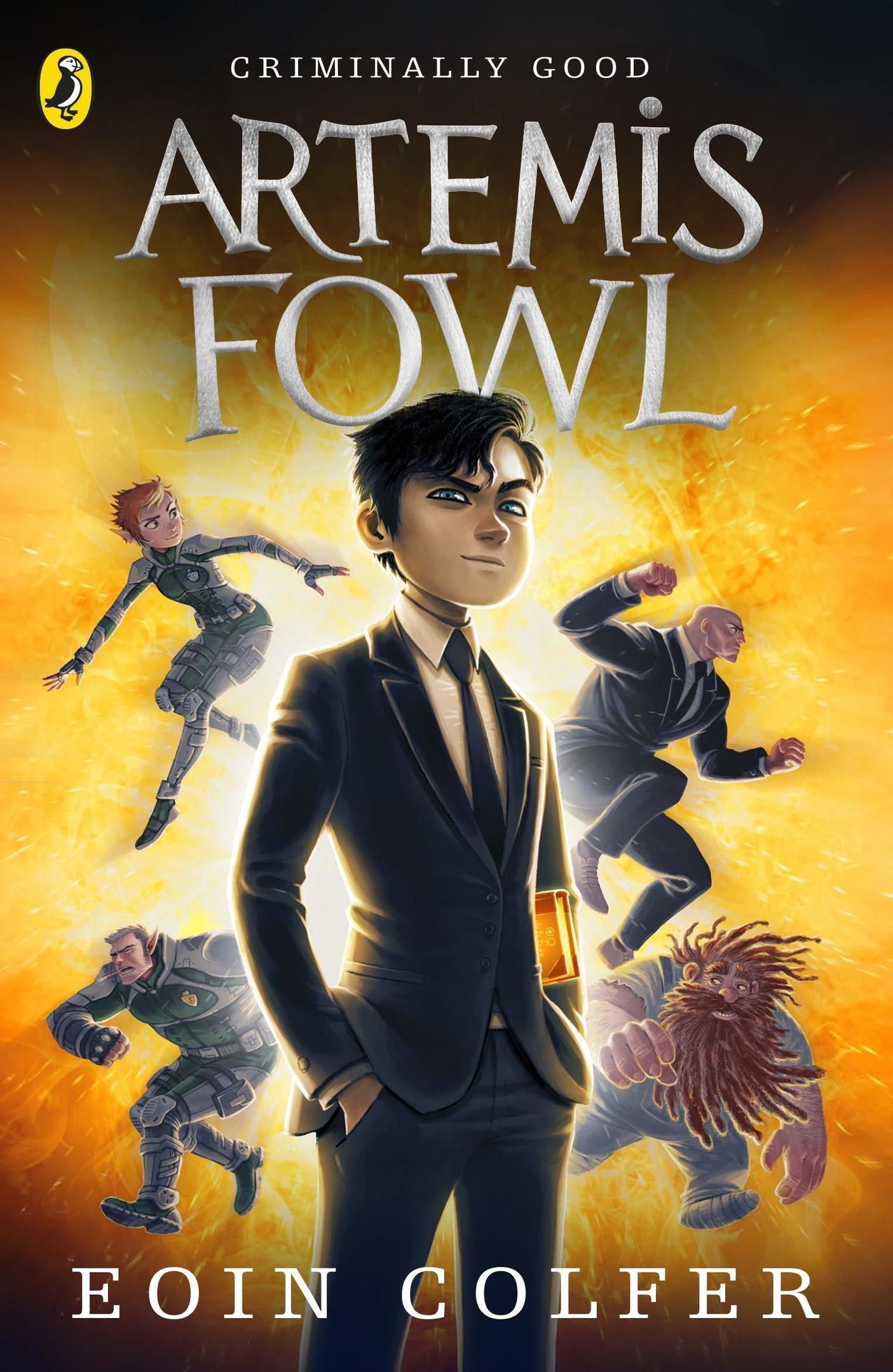 Inspired by this week's assembly I have challenging myself to a bit of reading. My family and I loved watching the Artmeis Fowl film at the weekend so my son, Harry, and I are going to read the first book together. We will write a review when we have finished it.
Mrs Clothier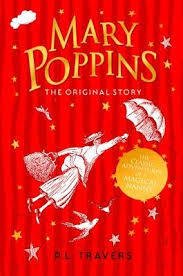 This week I have read the first Mary Poppins book which was published in 1934. I really enjoyed reading about the Banks Family, Mary Poppins and the adventures they go on. It is quite different to the film, for example, there are two more children in the story, a set of twins called John and Barbara. I think the best bit was where they had a tea party on the ceiling with Mr Wigg, it is just as funny in the book as it is in the film.
Mrs Carr
Letters
Newtown children were asked to write to a hero and Joseph chose his favourite author. See below for his fantastic letter he wrote to Andy Griffiths and the reply he was lucky enough to receive.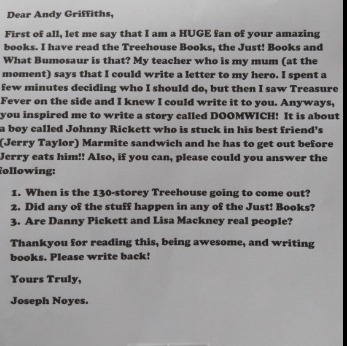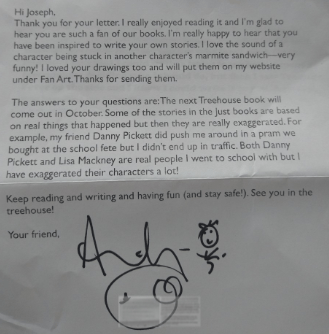 Milborne Port, Somerset DT9 5EP
01963 250366
milborneportprimary@educ.somerset.gov.uk and Homelearningmpps@educ.somerset.gov.uk